DSG Corrado Project Introduction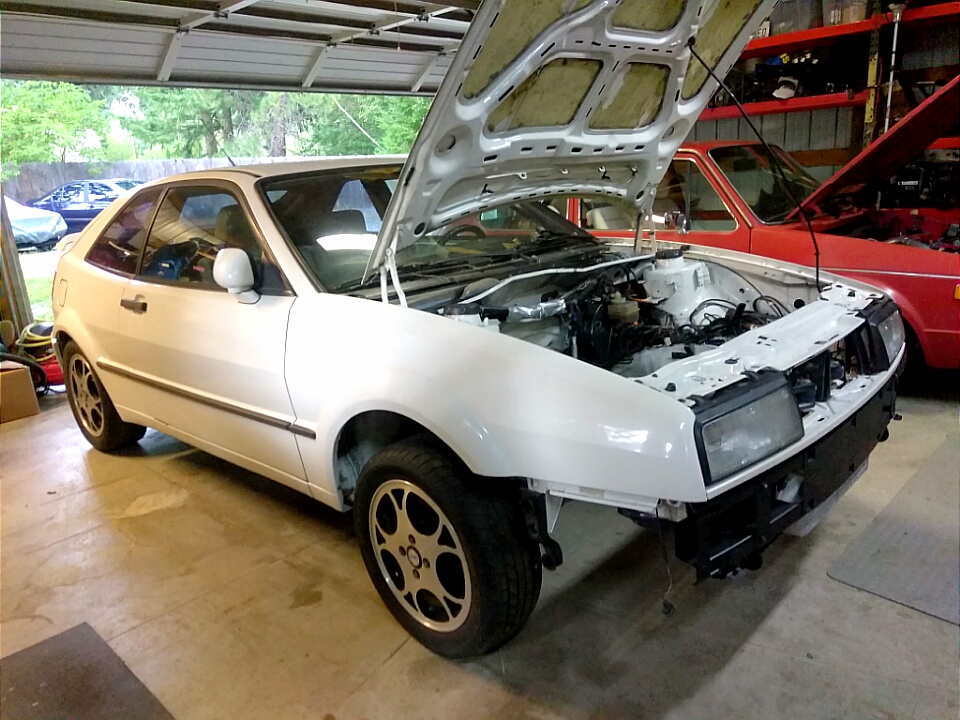 As you may have seen, we have started working on a new product to support the VW/Audi DSG transmission. This will be the test car for the new controller, as well as aid in developing some swap components that we intend to make available for purchase. We had already had some plans in motion to convert our own '77 Rabbit to the DSG transmission, but when our friend Jay contacted us about some ideas for a project, all the blocks fell into place for the Corrado. Jay had previously owned a white Corrado and loved the car, but it had been many years since he had a nicely built older VW. Jays request was simple, I want a Corrado again, I want it to be a fun and fast street car, and it HAS to be an automatic. If you have been following along in our long career modifying cars, you will notice a trend, we love the early VW 16v engine, and we love it even more with a turbocharger. Sticking true to our tried and true formula, we recommended the 8v ABA block mated to a 16v head and a nice turbo setup to bump that baseline power up into the 300-350 hp range as desired. Within a week of the project proposal, Jay had a white corrado on the trailer and we set to work on getting his project going. We contacted our friends at JRM Fabrication for some help with getting an engine together as well as the brunt of the fabrication work for the project. The car was delivered to JRM and they got to work building all kinds of custom goodies, including making our transmission mounts for the new DSG transmission (available for purchase soon!)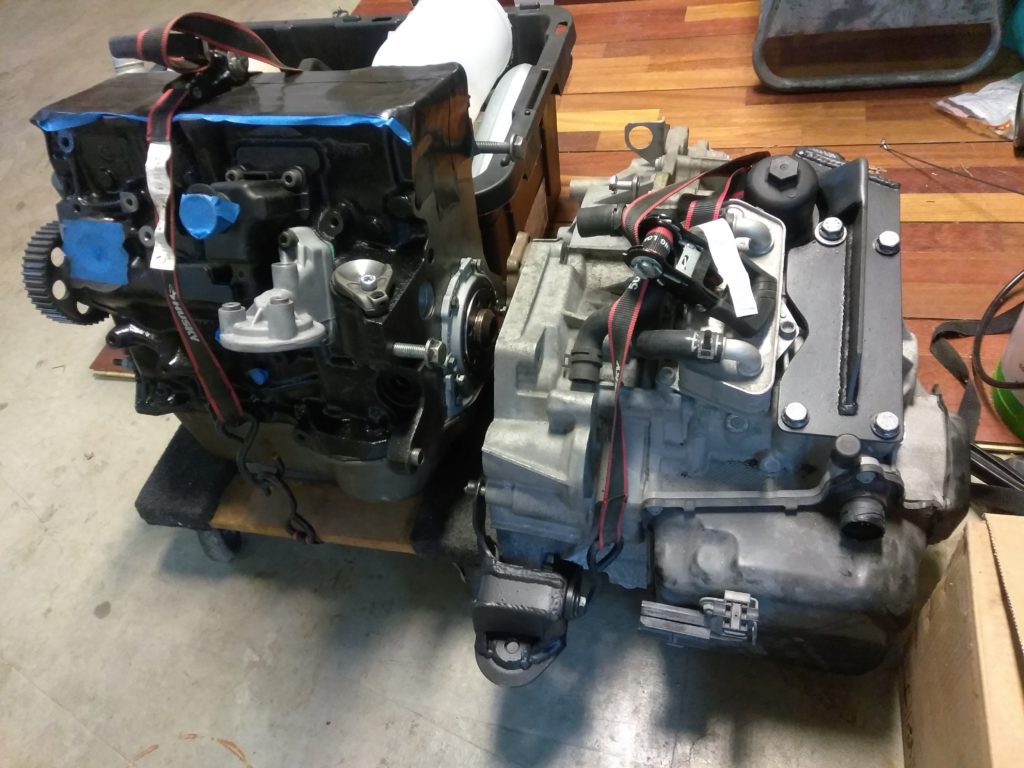 The DSG transmission is unique in that it has a full automatic mode, but also has the ability to select gears manually. It also has the ability to hold a decent amount of power without needing super expensive upgrades. In most of our experience, cars can be modified up well over 350hp with completely stock transmissions, although a limited slip differential goes a long way to putting that kinda power down. In my own personal car, the stock dq250 lasted 255,000mi before I had a bearing failure. The early generations of the transmission where clunky and had poor drive ability at low rpm, delayed shifting, and other nuances that turned a lot of people off from the DSG. The nice thing about this transmission though is that it is equipped with its own ECU, so most of those problems have been remedied with custom aftermarket software. For a long time the DSG was thought to be extremely complex and difficult to work on. Even VW provided zero information for a technician to be able to open and work on the transmission.
As with most things automotive and technical, a few good techs just sent it and opened the case to see what was inside. Inside is actually quite simple for what it does. In its very basic form, the transmission is just a manual with hydrolic controls to shift the trans and operate the clutches, all controlled by the TCU (Transmission Control Unit), which is integrated into the transmission. With the transmission being used in massive quantities across VW/Audi platforms, more and more support has been introduced and now servicing and modifying the DSG is common place in the aftermarket. Upgraded software for smoother driving and performance, clutches for excess hp and limited slip differentials are all readily available for to make the transmission as good or strong as you need. We feel that this will be the go to transmission for a long time for motorsports for the VW community, as well as a very good option for higher hp street car builts. We have also seen the transmission used in other vehicles and engines as well, so that is evidence as well to the desire to make this transmission easier to swap into whatever your next build is. If anyone has seen the Berg Cup VW rabbits in the hill climb videos, you want a paddle shift trans in your car. We aim to make that accessible to anyone, and aim to offer the parts and electronics to make it work without having to drop 50K on a sequential transmission or $5000 on an ECU that supports the DSG.
We have started mocking up our custom wiring harness for the Megasquirt ECU and laying out the electronics that will be added to make everything work. We are looking into solutions for the flywheel and axles as well as finishing up getting parts for the engine. Stay tuned for more updates as we make progress on this exciting new project!