Feature Car: Nick Middleton's ABA-T Swallowtail
Happy St. Patricks day! We thought it would be appropriate to feature a mean green bunny today.

Nick picked up this early rabbit as a project, and if you have seen any of Nick's other projects, you know these usually spiral quickly out of reason for most folks. You see, Nick has been tweaking on cars since I met him around 6 years ago. He had a set of race tires that would fit perfect on my '77 rabbit track car, the trade he was after was a set of skinny little 13″ tires to make his car sit lower. I happened to have a set so the meeting was arranged to make the trade.
At the time, nick had a couple mk1 projects already, and some large ambitions. He had purchased a rabbit that had a fully custom independent rear suspension and air bag suspension. The things he has done to that car were pretty incredible, but that build is for a different feature 😉 I will say this though, that kids desire and dedication to having the car sit as low as possible hasn't change since the day we met.
Hold back that super lowz stanced out enthusiasm, this build is of a completely different nature entirely. This is Middleton's daily driver, and rather than being the lowest rabbit possibly driving the roads of the state, this one is about function and performance, with a slight emphasis on fun. Starting out as an ABA swapped '75 rabbit with some interesting 16's, it has been morphed into a mini monster.
Now sporting a well matched k14 turbo, JDM Spec intercooler and Megasquirt standalone, the little bunny has been developed into a green machine! We got to check out Nick's car when he asked us to help him get his Megasquirt tune dialed in. He had done the turbo setup along with a refresh on the transmission and a new clutch, after the NA ABA 2L 8v had made quick work of the previously fitted unit. The Megasquirt replaced the factory ABA management in preparation for running boost, and wanting an ease of fine tuning.
This is undoubtedly only one of the steps in the future of this bright green bunny. We will try and keep up with his next big change to this one or the several other makeovers he has going right now.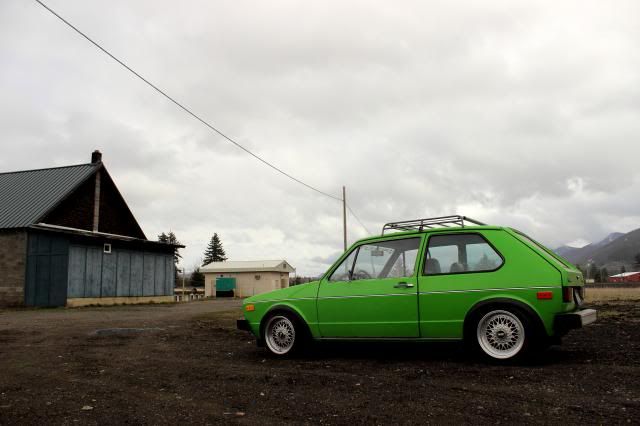 A full suspension refresh, new brake lines w/ vw mk4 aluminum rear calipers round out most of the chassis modifications. With the way this car corners combined with a nice amount of power under the hood, I think he may want to start thinking of a seat upgrade soon! Nick told me that the inspiration for the turbo addition was due to a brief encounter with a Lexus on the freeway one night. I think it's safe to say, that car may have a little tougher time getting away next time!
-Brendon